Podcast 25: Choking and Muting Your Guitar!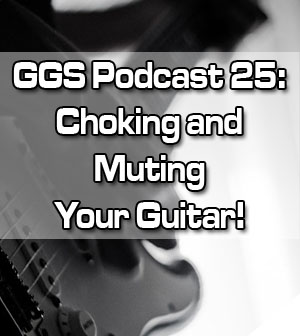 http://www.guitargodsecrets.com – In this latest PODCAST episode, we'll do some exercises to help you control your sound and be more expressive when you play.
The trick is in a technique called choking and its close cousin, palm muting, which will keep any unwanted distortion between your strings and avoid sounding "off" or "weird".
This is to control your string output and avoid sounding sloppy, and choking can help you with that. The trick is turning off or stopping a note before it rings, and you'll learn all about that in my podcast!
Plus, I'll share some interesting trivia about a wildly famous guitarist and how he got his stage name, so make sure to catch that as well! 

If you liked this Guitar God Secrets Podcast, SUBSCRIBE at the link below to get more FREE guitar lessons on blues guitar, rock guitar, lead guitar – lessons that show you how to get better on guitar in half the time. We'll cover guitar chords, guitar shop and hardware reviews, scales, and much more.
Podcast: Play in new window | Download
Subscribe: Apple Podcasts | RSS
Comments
comments