B.B. King – Guitar God Profile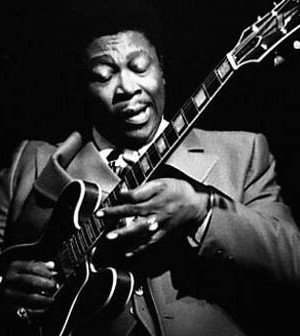 Born: September 16, 1925
With a career longer than other guitarists have been alive, Riley "B.B. King" has not only influenced generations of guitarists with his widely recognized style of playing, but also continues to be a driving force in the blues scene to this day.
His unmatched blues prowess has earned the respect of other musicians such as Eric Clapton, George Harrison, Jeff Beck and even Slash. Here's King busting out some riffs with the former GnR guitarist:
King's work spans several dozen albums, going all the way back to the 40s. Born near a plantation in Itta Bena, Mississippi, he started out as a street performer playing across different towns in one day. It was around 1947 when he decided to turn his passion into a lifelong career when he moved to Memphis, Tennessee which had a thriving musical scene full of aspiring musicians like King.
His main influence and mentor was Bukka White, his cousin who taught him the basics of the blues. After White showed him the ropes of playing guitar, King left for West Memphis where he gained greater recognition from playing on Sonny Boy Williamson's radio program on KWEM.
From here on, King's fame steadily rose while playing on WDIA, a Memphis radio station as well as venues such as Sixteenth Avenue Grill. As his popularity grew, King adapted the stage name Beale Street Blues Boy. Later on he was called Blues Boy King which then became B.B. King.
By the 50s, King was already on a national tour, even playing 342 shows in 1956. He had come out with the track, "Three O'Clock Blues," which became a huge hit back in the day. This was also around the time when he came up with the name "Lucille" for his guitar, which he nearly lost in a fire resulting from a fight between two men during one of King's shows.
His acoustic guitar was left behind after the fire broke out, but he risked his life to recover it. It turned out the fight was over a woman called Lucille, which was why he aptly named his guitar as a reminder to avoid any reckless behavior in the future (such as getting into brawl because of a woman).
Since then, King has given the same name to all of his guitars.
The first batch of Lucilles was created by Fender (a Telecaster model) and Gibson (primarily the ES-355 series), which is the one he's most associated with.
The B.B. King Lucille model was released by Gibson in the 80s. It features an inscription that says "Lucille" on the headstock and a maple neck. King specifically asked Gibson not to add F-holes on top in order to minimize feedback.
Gibson ran a special edition series of 80 Lucilles called "80th Birthday Lucille" to celebrate King's birthday in 2005. King received the first one as a gift, but was stolen a few years later. Fortunately, the guitar was recovered from a Las Vegas pawnshop and was eventually back in King's hands in 2009.
King's playing is a mixture of different styles, with Blind Lemon Jefferson and T-Bone Walker (whom he met while working at WDIA as a singer and disc jockey), seamlessly bringing together a variety of techniques such as his phrasing, left hand vibrato, string bends and putting emphasis on every note as humanly possible.
His song "Paying the Cost to be the Boss" is an excellent example of phrasing. As King himself says, "When I sing, I play in my mind; the minute I stop singing orally, I start to sing by playing Lucille." To do this, he "speaks" through his playing in the way a person talks and pauses in a conversation. According to King, "The guitar should tell the story. Just like me, if I was going to tell you a joke or something, I'd keep you in suspense until you get near the point and then let my heart and soul say the same thing with the guitar."
Instead of just playing on and on, King includes breaks in his solos, much like a musician would play the sax, for instance. It gives the audience a moment to take in the music and savor each note. Have a listen here:
When it comes to vibrato, King is the master of using his entire hand (and not just his individual fingers) to create that trademark sound. However, he uses the vibrato technique only on specific notes (primarily from the blues scale) that he wants to emphasize. Watch the King of Bluers break it down:
A number of material has been published about King, such as the Charles Sawyer's 1980 book called "The Arrival of B.B. King". An interactive CD-ROM of his autobiography was released in 1996. In the same year, David Ritz wrote a book on King entitled "Blues All Around Me".
Having a very active music career, King has played at thousands of shows, practically once every day of a given year. After reaching his seventies, he plays an average of about 100 times in a year. Crowd favorites include hits like "Payin' The Cost To Be The Boss," "The Thrill Is Gone," How Blue Can You Get," "Everyday I Have The Blues," and "Why I Sing The Blues."
King has played over 15,000 shows in a mind-boggling span of six decades.
It was in the 1970s when King pushed even further into mainstream recognition with his Grammy-winning track "The Thrill Is Gone". This helped him cross over into pop and R&B territory, having climbed the charts for both categories. Just before this, he was also on The Rolling Stones' 1969 American Tour.
Producer Bill Szymczyk suggested to King that they should add strings to the song which proved to be a great move. Guitar World and Gibson consider this song as one of King's greatest solos in his career – and in the history of blues. It also sits at 183 in Rolling Stone's list of the 500 greatest songs ever. Listen below to see why:
King is known for his straightforward setup. For amplifiers, King is a fan of the Lab Series L5 (featuring an onboard compressor, parametric EQ, and four inputs) 2×12″ combo amp which has been a mainstay in his performances for many years now. Along with this, he also uses a Fender Twin Reverb.
Comments
comments