Jimi Hendrix – Guitar God Profile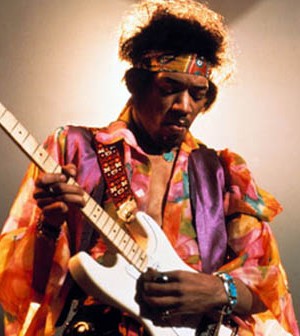 #2: Jimi Hendrix
Born: November 27, 1942 – Died: September 18, 1970
Although Hendrix is famous for playing with his teeth, he wasn't the first to perform this trick. Fresh from his Army discharge, Hendrix wasted no time getting back into music and had learned it from other musicians. However, no one but Hendrix could pull off the technique with the same flair, as you'll see below:
By this time, Eric Clapton was already being hailed as a Guitar God, but even he had to acknowledge just how electrifying Jimi was onstage. During a 1966 Cream performance in London, Clapton met up with Hendrix (by way of an introduction from his manager and former Animals bassist Chas Chandler). When Cream went on to play, Hendrix eventually jumped in and blew everyone's minds – including Clapton himself.
During this gig, Hendrix played a frenzied interpretation of "Killing Floor" by Howlin' Wolf. By the time he was done, his impromptu performance was etched into Clapton's memory for life. Here's a firsthand account of the famous moment:
It ain't rock and roll if something doesn't get destroyed along the way, and Hendrix elevated this to an art form. At the height of one performance, he didn't just break stuff, he burned his beloved guitar as an offering to the rock gods.
To quote Hendrix, "I decided to destroy my guitar at the end of a song as a sacrifice. You sacrifice things you love. I love my guitar." Witness the beautiful destruction here:
Like the raw element of fire, feedback wasn't something guitar players could tame, let alone incorporate into their music. That is, until Hendrix exploded onto the rock scene and made feedback and distortion into a workable part of the equation.
Rock critics noted how Hendrix used textures and other sound effects (including the wah-wah pedal) in a way that no one before him could, making him a pioneering force that made it hard for other musicians to follow.
Hendrix was mostly known for playing his Fender Stratocaster, which he first got in 1966. He's said on more than occasion that it's his favorite guitar, mainly because of the rich sound defined by bright treble and deep bass. Hendrix has used it throughout his career, both onstage and in the studio.
Hendrix is also noted for playing guitars right-handedly, which made his already revolutionary sound even more unique. By restringing his guitars, the sound was noticeably brighter as the orientation of the bridge pickups were reversed.
He also likes using Gibson Flying Vs, a Les Paul and a black Gibson Flying V when he played at the 1970 Isle of Wight festival.
Hendrix switched from a Fender Twin amp setup to a Marshall stack in 1966 by chance. He was at a London performance and couldn't get a hold of his accustomed Fender equipment, so he became curious of the Marshall amps he was other bands had at the time. Later that year he got four speaker cabinets and three 100-watt Super Lead amplifiers which he used with his band, The Jimi Hendrix Experience for their first tour.
This helped paved the way for what's now known as the "Hendrix Setting", was defined by an overdriven sound and allowed him to control feedback. He did this by cranking the amp's control as high as possible.
Thanks to influences like Eric Clapton (specifically with his work with Cream) and Frank Zappa (during a live performance), he learned to make use of what would become his trademark effect: the wah-wah pedal, which went on to be used in songs like "Voodoo Child (Slight Return)", "Up from the Skies", "Little Miss Lover", and "Still Raining, Still Dreaming".
Comments
comments