Podcast 19: Fretboard Freedom, Guitar Gear and Guitar Apps!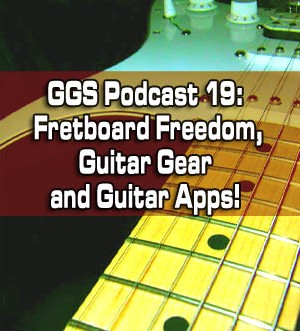 http://www.guitargodsecrets.com – In this new PODCAST episode, we'll talk about the FF-word: Fretboard Freedom
Imagine being able to go anywhere on the fretboard without worrying if you're still in the right key or sound OK. As a guitarist, you know this a BIG deal.
One of the first things you learn from playing in a band is how *painful* it is to hit the WRONG note.
It's physically painful to listen to, makes you cringe and feels like a kick in the gut for everyone involved!
Obviously, you want to avoid that. That's why we'll do a cool exercise to make it easy for you to visualize the fretboard and know it like the back of your hand!
We'll also get into the latest gear you should check out, PLUS the apps you can put on your phone to get better – FASTER.
If you liked this Guitar God Secrets Podcast, SUBSCRIBE at the link below to get more FREE guitar lessons on blues guitar, rock guitar, lead guitar – lessons that show you how to get better on guitar in half the time. We'll cover guitar chords, guitar shop and hardware reviews, scales, and much more.
Podcast: Play in new window | Download
Subscribe: Apple Podcasts | RSS
Comments
comments