Stevie Ray Vaughan – Guitar God Profile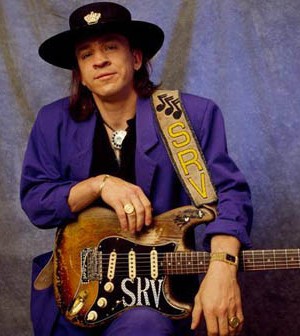 #4: Stevie Ray Vaughan
Born: October 3, 1954 – Died: August 27, 1990
Blues was the name of the game for this Texas-raised Guitar God. In the span of his seven year career, he lit up the music scene with his never-before-seen combination of technical wizardry and a soulful approach to guitar playing.
Growing up on blues and rock greats like Albert King, Buddy Guy, and Albert Collins, Jimi Hendrix and Lonnie Mack, Vaughan was an equally accomplished musician, having racked up awards and accolades, including no less than six Grammy Awards. He was also inducted into the Blues Hall of Fame ten years after his passing in 1990.
After picking up a guitar at the tender age of seven, he developed an all-consuming obsession with the instrument. His playing often conflicted with school and regular jobs, so he found himself playing for well over a dozen acts during the 70s until he hit it big while playing at the 1982 Montreux Jazz Festival with his band Double Trouble (previously called Triple Threat before former bassist W.C. Clark left the group). Here he is tearing up the stage during that historic set:
It proved to be a pivotal moment for then unknown Vaughan as this single performance helped launch his career to levels he couldn't imagine before. His skills got the attention of the likes of David Bowie whose record sales went through the roof, thanks to Vaughan's unparalleled work on the best selling album Let's Dance:
Even Thrash Metal Legend Kirk Hammett can't deny Vaughan's musical genius, hailing him as one of his favorite guitar players. Hammett said he was "was just totally blown away by (Vaughan's) timing, his tone, his feel, his vibrato, his phrasing — everything. Some people are just born to play guitar, and Stevie was definitely one of them."
Vaughan was a fan of using vintage equipment to get a clean, dry tone which was complemented with his personal style that's difficult to emulate to this day.
To help him rock out as loudly as he possibly could, Vaughan utilized key equipment during his quest for blues supremacy. And this is just the tip of the sonic iceberg though:
Fender Super Reverbs
Fender Vibroverb, Marshall and Dumble amps
Ibanez Tube Screamer
Vox wah-wah pedal
He was known best for playing his Fender Stratocaster with a 1959 body, 1962 Rosewood neck and a left-hand tremolo unit. He called this guitar as his "first wife" or "Number One."
He had another guitar named "Lenny" which referred to his wife, Leonora Bailey. Leonora y helped Vaughan get it at a pawn shop in 1980 after he couldn't afford it at the time. She secretly put together the money to buy "Lenny" which she gave to Vaughan as a birthday present.
Vibrato was one of Vaughan's specialties, being able match the emotional tone of a particular section of a song with his playing. This is one of the reasons why his style has been described as soulful, namely because of the robust yet flexible approach to vibrato. See for yourself here:
Many guitar experts have called Vaughan as an aggressive player, thanks to how he picked his strings. Those who've seen him play noticed that Vaughan used his whole arm to pick (instead of just his wrist) along with downstrokes, giving him that trademark percussive playing style.
A good part of this technique has to do with Vaughan's "string raking", which involves him raking his pick across the strings in a sweeping motion. This subtle element has helped Vaughan make his notes noticeably more expressive and an added element of soul.
Comments
comments